boutique hotels for campus + community
leadership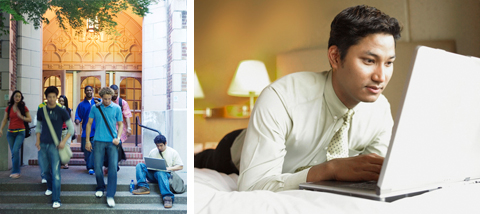 SMART Hotels' executives and affiliates bring the skill, experience and commitment required to develop and operate successful projects. We strive to exceed expectations. The quality of our team ensures exceptional results.
LEADERSHIP RESPECTED, RESPONSIVE, RESOURCEFUL
JON ADAMS
CHIEF EXECUTIVE OFFICER
jadams@smarthotelsgroup.com
"I like setting challenging goals - and achieving them. Persistence and hard work pay off."
Jon Adams has a track record of success.
Jon moved to Cleveland from San Francisco to start Audiopack, which manufactured one product - a portable loudspeaker system. He later purchased the company and grew it into to a manufacturer of sophisticated wireless communication devices for global homeland security, military, and other markets, with 130 employees and annual sales of $25M. After selling Audiopack to a publicly traded UK aerospace and defense firm, Jon started Noom Enterprises, which provides consulting services to start-up and early-stage technology companies.
When he's not raising equity for SMART Hotel's projects, Jon spearheads fundraising for the Cleveland Rowing Foundation's Rivergate project, a public-private project that will stimulate development in Cleveland's Flat's district with a water sports center and mixed-use components.
Jon received his BA from Harvard College and his MBA from Stanford University. He serves on the board of the Cleveland Civic Innovation Lab and is a member of Cleveland Social Venture Partners.
ED SMALL
PRESIDENT
esmall@smarthotelsgroup.com
"The goal is a win-win solution. When we understand each other's wants and needs, we've cleared the path to success."
Ed Small has 20 years' experience in the development, financing, and operation of hotel, retail, office, and multi-family projects. He has been a pioneer in promoting green building methods, adaptive reuse of historic buildings, and urban redevelopment, receiving awards and acknowledgements for his innovations and accomplishments in those areas.
Ed began his career at one of the country's top-ranked law firms and honed his real estate skills at The Richard E. Jacobs Group, then the nation's largest privately-owned retail developer. Subsequently, he served as President of New Village Corporation, a developer of catalytic infill projects. His passion for urban infill and community revitalization initially led Ed to form his own company specializing in adaptive reuse of historic structures, and then to his current focus on campus hospitality with Smart Hotels.
Ed received his AB from University of California at Los Angeles (UCLA) and his JD from Case Western Reserve University (CWRU). He has founded two not-for-profit community organizations and served on boards of several others, including Cleveland Clinic's Lutheran Hospital, Museum of Contemporary Art (MoCA), and Cleveland Restoration Society.